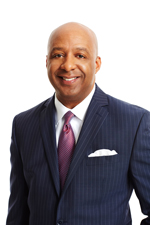 Marvin Ellison
Washington – Executives from JCPenney, The Home Depot and other major retailers are lined up to present at National Retail Federation's Protect 2018 conference.
NRF said more than nearly 90 industry leaders will speak to an expected 2,500 attendees including retailers, loss prevention executives, cyber security experts and law enforcement officers.
The event, which will be presented jointly by NRF and the Food Marketing Institute, is set for June 11-13 in Dallas.
"This year we will present highly skilled speakers who will challenge attendees to expand their thinking, invest differently and re-imagine the future of the industry," said Bob Moraca, NRF vice president for loss prevention. "The show will help LP leaders anticipate change, find opportunities for professional success and learn the latest on how to protect their colleagues and brands from both traditional threats and those that remain to be seen."
The lineup begins June 12 with a look at the retail industry's response to the devastation caused by Hurricane Harvey and other natural disasters. Titled " Retail to the Rescue ," speakers will include The Home Depot vice president of the Gulf Region B.J. Powers , Gallery Furniture owner Jim "Mack" McIngvale and The Kroger Co. vice president of operations, Houston division Mike Krell. And they will discuss how to prepare for an impending crisis and manage both the human element and operational stability in severe situations.
Penney chairman and CEO Marvin Ellison will share his perspective on the evolving retail climate and the actions, insights and objectives that leaders face in a session on "Leading in Uncertain Times."
In addition to main stage speakers, eight concurrent speaker sessions will feature: Caleb Popow , Abercrombie & Fitch's southeast regional manager for asset protection; Barnes & Noble vice president of loss prevention Rosamaria Sostilio ; The Container Store vice president of loss prevention, payroll, benefits and legal Joan Manson ; Supervalu director of loss prevention Kelly Brandes ; and senior vice president of legal Andre Lamere ; and Office Depot director of loss prevention technology Don Burkett and director of corporate investigations George Soto .
To close out the day, former White House CIO Theresa Payton will present " Cyber Risk: Following Digital Breadcrumbs " on the complexities of cyber security and mitigating the risks of attacks.
On June 13, " Antidote for Complacency: Change your Thinking " will feature Neiman Marcus senior vice president and CIO Sarah Miller, who will discuss how to embrace technology and innovation, and navigate the dynamic landscape of retail. In addition, retail trends consultant James Mullan , who is U.S. senior vice president at GDR creative intelligence, will discuss ways loss prevention teams can create and lead innovation in " Trends Update: Retail's Secret Innovation Lab ."
There will be eight concurrent sessions featuring Nuix chief technology officer Stephen Stewart and senior vice president Keith Lowry ; JCP eDiscovery and information manager Rich Robinson ; Gap Inc. senior director Richard Giaquinto and director of digital loss prevention Jerett Sauer ; HS Brands International president and chief operating officer Mike Mershimer ; Forever21 global director of loss prevention Jose A. Gomez ; Macy's director of asset protection training and communications Tara Nutley ; Vistelar partner Bill Singleton , and experts from Ascena Retail Group and Carter's Retail Inc.
Closing out the conference will be a two final sessions starting with "Ripple Effects: Innovate by Learning from Other Sectors" featuring American Airlines Center vice president of guest experience Gina Chapa , Galleria Dallas Shopping Center director of security Earl Morgan and Marriott International senior director of global safety and security services Patrick Murphy. Best-selling author and Deloitte Independent vice chairman Jay Samit will conclude with a presentation titled " Disrupt You! Strategies for Billion Dollar Success in This Era of Endless Innovation " examining ways individuals can flourish in a changing retail landscape and turn innovations into business breakthroughs.